The Hungry Gods
:
vox (alto) / percussion, violin, flamenco guitar, cimbalom, electric / acoustic guitar, double bass / bass guitar, drums / percussion, electronics
When the Dutch November Music Festival approached me to put a 7-piece ensemble together for their 2003 edition, I grabbed my chance to put my favorite musicians together with both hands. All of them are true virtuosos and know how to read music, but each of them brings a different ethnic and musical background into the ensemble. This allows me to go from chamber music to flamenco to gypsy music to rock to electronics to metal in their pure forms, and create an amalgam that is completely unique. I was so satisfied by this collaboration that I decided to transform this outfit into a permanent ensemble. It's a dream come true - there are virtually no limits to how far I can go as a composer, every piece has its own distinct sound world and style, and the concerts we gave were met with raving enthusiasm by audiences and critics alike.
Black Stars Suite
(2005 / 2010 / 2012) 9'
Lyrics by Andrew Hughes.
Admittedly, an arrangement with a bizarre story. In 2010, I made a compact
arrangement
of our half-hour Black Stars Suite for the Nieuw Ensemble and flamenco singer Carlos Denia at the request of the Dutch Flamenco Biennial. Flamenco dancer and choreographer Brita Falk then made a choreography on the arrangement's recording and booked a gig at the next Flamenco Biennial with it. However, it was not possible for the Nieuw Ensemble to return to the Biennial, so the Hungry Gods ended up playing a reduction of a reduction of a piece I wrote for them.... It pleased me greatly tho to see my music enriched by my old love - flamenco dance!
Cimbalom Concerto
(2011 / arr. 2012) 12'
arrangement of my orchestral score for the ensemble. Special guest: Hans van der Ham on keys.
Performed in Garage Rotterdam in june 2012.
Frank en Stein
(2010) 80'
evening-filling children's theater production. Director: Marcel Sijm. Actors: René Groothof, Oscar Siegelaar.
text: Suzanne van Lohuizen
première:
september 2010 in the Netherlands
performed since:
full tour of the Netherlands (22 performances) in fall / winter 2010.
We performed 2 little excerpts of the music score for Dutch TV:
excerpt 1
excerpt 2
We were proud to have Astrid Haring (harp) and Friso van Wijck (drums) support us as session musicians on this tour as replacements for Jan Rokyta (cimbalom) and Greg Smith (drums).
Elvenland
(2008) 32'
movie score for a film by Karel Doing
text: J.S.Welhaven
première:
september 2008 in the Netherlands
performed since:
several performances of the score with and without film in the Netherlands; international screenings of the film
Movie Teaser
Live performance
(excerpt, without film)
The Great Hall of Moon
(2006) 25'
text: Andrew Hughes
première:
march 2006 in the Netherlands
performed since:
toured the Netherlands in march 2006 and september 2007
Black Stars
(2005) 28'
text: Andrew Hughes
première:
march 2006 in the Netherlands
performed since:
toured the Netherlands in march 2006 and september 2007
Elvenland, The Great Hall of Moon and Black Stars were commissioned by the Fonds Scheppende Toonkunst.
Fever Season
(2003) 27'
text: Andrew Hughes
commissioned by:
November Music Festival 2003
first performance:
Den Bosch, nov.2003
further performances:
nov. 2003, Gent (BE), Utrecht, Rotterdam
"[...] injected-with-anabolics [...] full of prophetic doom and biblical references [...] a big bang of half an hour on a chamber music level [...] the machinegun-like bassdrums of Greg Smith and the sawing breaks of electric guitarist Murat Yücel were piercing to the bone. But as soon as Jan Rokita's metallic cimbalom and the passionate violin of a headbanging Julija Hartig joined the game, an infectuous groove was born. The duels between flamenco guitar and bowed bass or electric guitar and violin were raising the tension for the next outburst."

-NRC Handelsblad (NL, national), 18.11.2003



"[...]Another highlight was the commission for the young German Florian Maier: the Chamber Concerto Fever Season. It was not only singer Claudia Copier which reminded you of Gong, the underground band from the seventies. The combination violin-electric guitar-cimbalom created the same spacy effect as that of Gong, and that was the biggest surprise of the Festival."

-Brabants Dagblad (NL), 17.11.2003


"In one moment, the music was fragile and enchanting, then again the enthusiastic musicians exploded into raw, maniacal rock [...] complex music, worked out to the smallest details" (Brabants Dagblad, NL, march 2006)
Fever Season, The Great Hall of Moon and Black Stars were presented live as a trilogy under the name
Transmogrification
.
For more information and mp3s, go to
Hungry Gods Myspace.
Quantum Ether
:
Interdisciplinary artist collective, uniting dance, music, sculptures / new instruments, poetry, fashion-, light- and sound design in hybrid live performances.
Colours of Darkness
(2004) 60'
electronics / virtual band (also contains fragments of Plutonic, Dzehennem and Fever Season)
Transcarnation
(2001) 14'30'' (CD-version) / 27' (live-version)
virtual orchestra (CD) / sculptures (Subcontra, Moon) and CD (live)
text: Andrew Hughes
Durya
:
Stage project around Ralf Fischer's sculpture instruments. Durya has a flexible line-up according to each project. I collaborated in 2006, together with Jan Rokyta.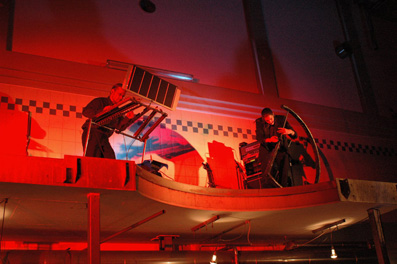 Schizophonie
(2006) 35'
electric cimbalom, electric guitar and live electronics
listen:
Schizophonie clip
The Warlips
:
Guerrilla-ensemble of 5 composers (Marc Verhoeven, Juan Felipe Waller, Felipe Pérez Santiago, Greg Smith and myself) accompanying surrealistic silent film in concert.
Hivebrain Apocalypse
(2004) 21'
electric guitar, bass guitar, drums, 2synth
live music to accompany images of the BBC documentary "The Blue Planet: The Deep"
Commissioned by Theater Lantaren / Venster.